johnfoliot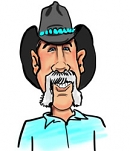 Member since Sep-2018
Location: Georgetown Texas
Last updated July 29
Greetings from Austin Texas!

I've been collecting music going back to the vinyl days... at it's peak my LP collection was over 2500 discs. Then I moved to CDs (3200) and now, finally to digital.

Throughout most of the 80's and 90's I worked in the industry: first 5 years for a regional record chain in Quebec, and then 15 years for EMI Music Canada (Capitol Records) in both Montreal and then Ottawa as a regional rep. I left the industry in 1999, predicting then that the internet was going to change that business forever (and turns out I guessed correctly).

I collect all kinds of music, with a strong interest in Blues and post-WW 2 R&B (Jump Swing, etc.). Additionally, I've not yet digitized my entire CD collection (I'm working on it), but I'm fastidious about tagging my MP3's.

I've also set up a little side-project for those times when you're hunting for album covers of older releases, and are coming up short. I track down the best sources I can, and clean up the artwork and share it at 500square.art.